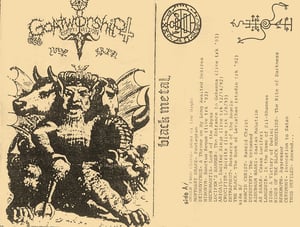 $

5.00
Early 90's black metal compilation cassette compiled by logo artist Mike Kovach. Who drew band logos for such acts as SORATH/BLACK FUNERAL, MOONBURN, DEINONYCHUS, EQUITANT(Absu side project) and more. Tracks taken from demo, live, rehearsal tapes, 7'ep's, and original Lp's.
Lineup:
Side A
Order From Chaos-Dead Of The Night
Mortuary Drape-Pentagram
Hiborym-Sanctum Regum(Live 1993)
Lucifer's Hammer-The Entrance To Gehenna(Live 1993)
Abigail-Lucifer Sings(Live 12/14/1992)
Crucifier-Spirits(Live 5/8/1993)
Entrapment-Massacre Of The Angels
Side B
Rancid Christ-Rancid Christ
Dysentery-the Untombed
Azhubham Haani-Saatan Mahatiim
As Sahar-Casus Luciferi
Winds Of the Balck Mountains-The Rite Of Darkness
Ceremony-Invocation to Satan
Thus Defiled-...Ascend
Dubbed onto clear C-94. Original cover art/layout used.
Goat Worship Compilation Vol 1-As Sahar-Casus Luciferi(1993) sample