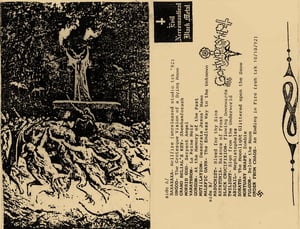 $

5.00
Early 90's black metal compilation cassette compiled by logo artist Mike Kovach. Who drew band logos for such acts as SORATH/BLACK FUNERAL, MOONBURN, DEINONYCHUS, EQUITANT(Absu side project) and more. Tracks taken from demo, live, rehearsal tapes, 7'ep's, and original Lp's.
Lineup:
Side A
Baxaxaxa-Hellfire(unreleashed studio track 6/92)
Ungod-The Grotesque Vision of a dying Moon(adv.track 1993)
Grand Belial's Key-Shemhamforash
Morbid God-Serpent Ange
Varathron-La Reine Noir
Gorgon-At the Memory of the Past
Mutiilation-Desecrate Jesus Name
Malefic Oath-The Endless Way to the Unknown
Side B
Masochist-Bleed for thy Sins
Katatonia-Balance of Frost
Black Crucifixion-Flowing Downwards
Twilight-Sign from the Underworld
Abigail-Mephistopheles(adv.1993)
Sorath-The Moonight Glittered upon the Snow(adv. track 1993)
Mortuary Drape-Zombie
Fulgor-Below the Moon
Order From Chaos-An Ending in Fire(reh. track 10/10/92)
Dubbed to a white C-92. Black sticker decals on both sides of the tape. Original cover art/layout used.
Goat Worship Compilation Vol 2-Morbid God-Serpent Angel 1992 sample